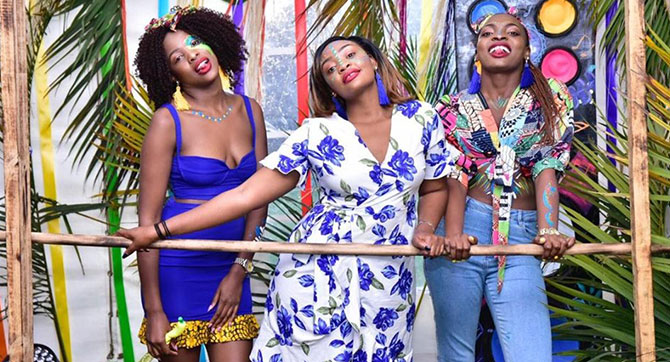 Club pilsner brought to the Mbarara an unforgettable experience on October 25, 2019 at the Mbarara University Inn Gardens - The Club Dome. Gates were open by 6pm and students turned up in huge numbers to grace the invite only occasion. Caribbean vibe was the theme of the Club Dome and true to this, the dress code of those who attended was spot on just like the ambiance of the venue. Neon, vibrant colours, palms, graffiti, sand, flowers and all you can imagine in the Caribbean came to life. With a bottle of Club beer discounted to Shs 2000, and the tasty treat of beef and chicken muchomo, there was simply no excuse not to enjoy oneself. Besides, everyone was VIP that evening.
The excellent assortment of DJs kept the party on point, these included DJ Ape-man, Slick Stewart and Rodger, Dj Alberto and DJ V Mercy. Artiste Daddy Andre, charmed the crowd with his club bangers such Sikikukweka, You & Me, Kyoyoya, Don't Stop and so many more, Ray. G a local artiste also from Mbarara known for his hit songs like Omsheshe, Owangye, Nkaronda, Niiwe, Nuunu put up such an impressive show that left the crowd yearning for more of his music. "Having taken a short hiatus from Mbarara, we were glad to be back with the Dome this year and the sentiments were returned in full measure by the crowd that showed up. The Club Dome has grown over the years to become the highlight of the University entertainment and lifestyle calendar and this year did not disappoint," said Robert V. Nsibirwa, Club Brand Manager.
Nsibirwa reaffirmed Club's position in creating an over the top experience for customers."We worked with our audience, the University Students in and around Mbarara, to create a lineup of activities and acts that included local favourites Riddim and Alberto alongside chat topping artistes Ffefe Busi, Daddy Andre, Slick Stuart & Roger, Mr. Silverback and DJ Dash." The Caribbean Vibe edition of The Club Dome has been our most successful yet and having been to Kampala and Mbarara, we are really excited to crown it all off with an extravaganza in Gulu on November 30th.